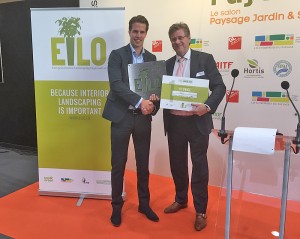 We can look back to a very successful 3rd international EILO conference. We had some interesting speakers, we visited inspiring interior landscaping projects and we could present the winner of both the EILO Award and the Public Award.
Four great speakers
One of the highlights of the conference was Patrick Blanc presenting many of his impressive projects. His expertise in choosing the right plant combinations for his designs really stood out. Blanc is very conscientious in choosing a wide assortment of suitable plants, originating from the region where his green walls are to be placed.
Dr. Annette Bucher of Hochschule Weihenstephan (Germany) talked about improving the humidity in offices, where many employees suffer from the effects of poor air quality. The results were impressive: green walls are able to improve the humidity in the air up to 20%.
In office environments fast developing IT technologies can have major impacts on people's wellbeing. Denis Stolze of the Fraunhofer instituut (Germany) specializes in the psychology of the workplace. He pointed out that plants as well as daylight are crucial factors. Employees in daylit offices with lots of plants experience a 15% increase in feelings of positivity, 6% increase in productivity and 15% increase in creativity.
Dennis Hauer, architect with Urban Climate Architects (the Netherlands) addressed the question why it is that greenery is ofted envisaged in the design of large buildings, but disappears within the process of building them. It turns out that their is a perception of green elements as relatively expensive, high in maintenance, perishable and unhygienic. Hauer stated that when we 'advertize' green as highly functional, some exiting results can be achieved, as shown in a number of beautiful interior landscaping projects.
Copijn winner of the EILO Award 2015
During the conference both the EILO Award and the Public Award were presented.
Dutch company Copijn Groenaanleg en beheer received the EILO Award 2015 for their project Liberty Global. The jury thought this to be a prime example of connecting people in the workspace to nature. Liberty Global at Schiphol-Rijk faced the dilemma of building a new head quarters and move the company all together, or revitalizing their four existing buildings. They chose the latter. Copijn was asked to do the interior landscaping of the renovated building.
Hydroplant (Switzerland) came second with their project Nature and Architecture, and Futura Atrium of Donkergroen (the Netherlands) came third.  Futura Atrium was especially valued because of the contemporary and highly sustainable and green design, resulting in a BREEAM-NL certificate.
Jardins de Gally (France) was the Public's choice with their project Atlantis.
Inspiring projects
During the second day a number of interior landscaping projects in Lyon were visited. Especially shopping mall Confluence was thought to be very inspiring. Potted plants throughout the entire mall, and also a number of hanging, luminescent bowls, filled with beautiful plants, a water wall and a jungle-like corner with nature sounds and a cascade didn't fail to impress.
Lots of inspiration to be found in Lyon…..