Every two years EILO – the European Interior Landscaping Organisation – organises its Best Project Competition. EILO's aim is to connect professional interior landscapers to share knowledge, expertise and inspiration and with this competition it wants to generate attention and recognition for interior landscaping by celebrating the creativity, innovative potential and craftsmanship of the interior landscaping sector.
32 indoor greenery projects from 10 countries show outstanding quality
This year we had 32 nominees, all offering a brilliant insight into the outstanding quality the interior landscaping sector has to offer. The competition was open to EILO members and non-members alike.
Projects were submitted from Austria, Belgium, France, Germany, Hungary, Latvia, The Netherlands, Poland, Spain and the United Kingdom.
The projects ranged from beautiful stand-alone greenery to impressive green walls and creative other forms of vertical greenery, artificial greenery where conditions are tough for live plants to thrive and lush green interiors, all adding to a pleasant, beautiful and healthy indoor climate of public spaces.
The projects were judged by an independent jury on a number of judging criteria with regards to scope, design and construction, creativity and innovative quality, practical and esthetical value for the clients as well as environmental awarenes. The members of the jury were very impressed by the quality and versatility of the nominated projects.
The awards were presented October 19, during the bi-annual EILO symposium in Budapest.
We are proud to present the winners of 2023!
Category artificial green
This category had 8 entries. In judging these projects, the jury felt it important to consider too whether the use of live greenery would have been a viable option where artificial greenery had been chosen.
Gold Leaf: Vegetal Storm, Spain with RE-decorate Barcelona.
A very good (re)use of preserved material in a place without much light and in a secondary location. The moss walls were integrated into the total design with artifical greenery.
Silver Leaf: Any Green, Belgium with Virtuology
A pleasing combination of the use of artificial plants in combination with live greenery.
Bronze Leaf: Nature d' Intérieur, France with Work Café Wall Greening
Shows that artificial greenery can add to a green experience too, by doing things that are not possible with live plants.
Category stand-alone
In this category we had 4 entries. This category is all about projects that do not constitute a green interior as a whole, but consist of greenery in standalone pots yet in a permanent situation.
Gold Leaf: PLNT, The Netherlands with Amsterdam City Office.
This project converts CO2 production into CO2 reduction in 2 small, very well designed, closed spaces. 
Silver Leaf: Any Green, Belgium with Veolia Brussels.
This projects strikes a good balance between furniture and greenery.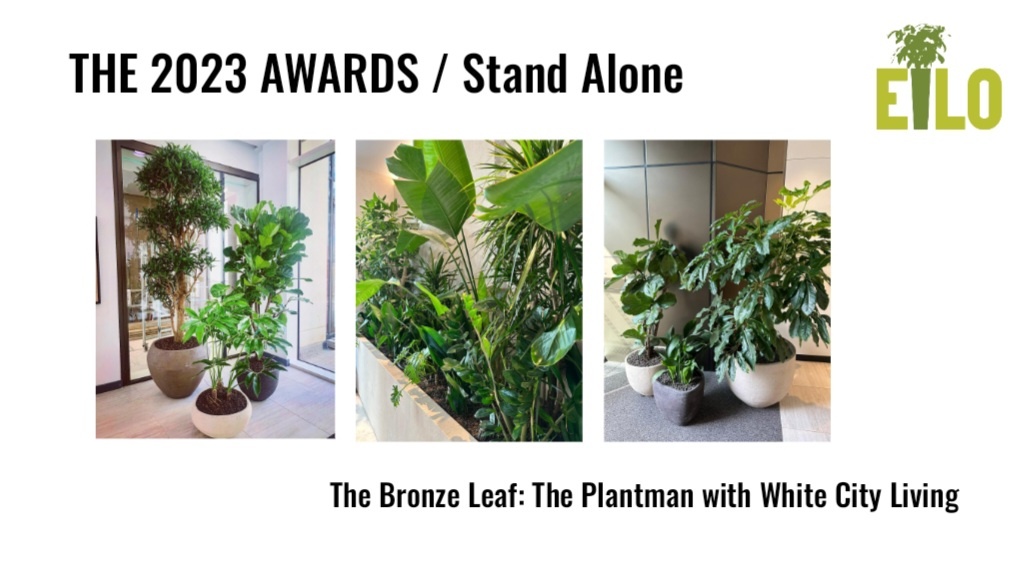 Bronze Leaf: The Plantman Ltd, UK with White City Living.
Shows good colour harmony between the styling of the pots, and the combination of large and small-leaved plants.
Category vertical green
In this category the jury had to choose from 6 stunning projects.
Gold Leaf: Calla, Poland with Super Transformation into Green.
The project not only shows a very artistic value, but a great technique too integrating huge amounts of live greenery in an existing old shopping mall, respecting the history of the place by making use of the existing steel construction.
Silver Leaf: Mobilane, The Netherlands with Matirx One Innovation Centre.
 Greenery was truly integrated in walls as they are, even turning corners and the company shows great attention to environmental aspects.
Bronze Leaf: Hydro Böttle, Germany with Growing Green in the Atrium.
A very beautiful, very large green wall, excellently placed in its environment.
Category green interior
This category contained 14 nominees of outstanding quslity, making it very hard for the jury in having to choose only three winners.
The jury wanted to especially mention the extreme show of skills of Hercs Flora, Latvia with their project in the Talinn Zoo. Developing and maintaining an indoor tropical garden in such harsh conditions is no small feat.
Gold Leaf: Koninklijke Ginkel Group & MOSS, The Netherlands with Transforming a Workspace into an Environment where Employees truly Flourish.
This project needed no discussion at all. The greenery is a huge and integral part of the design and furniture, permeating and elevating the entire space. Very impressive. In a  league of its own, according to the jury.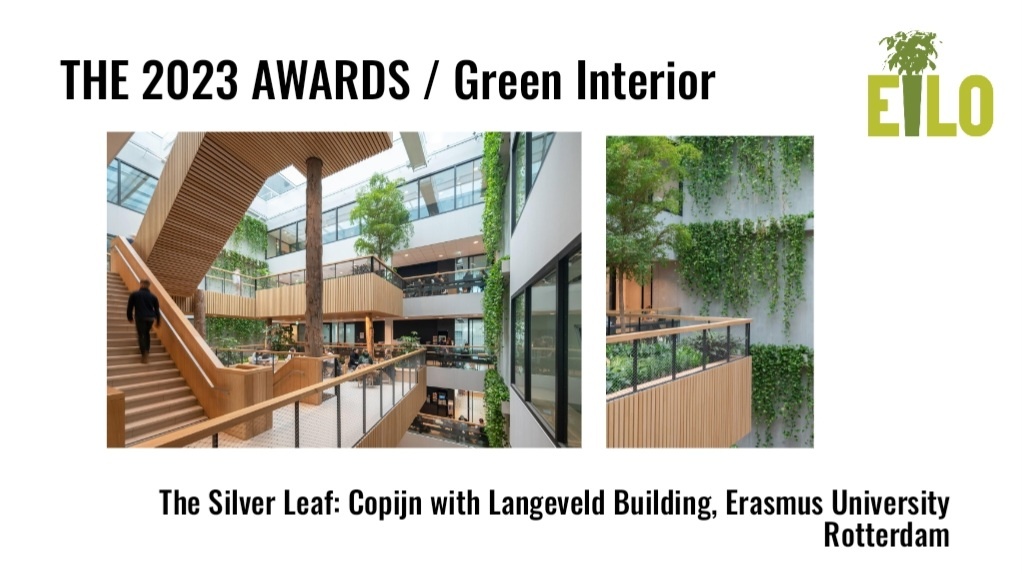 Silver Leaf: Copijn, The Netherlands with Langeveld Building Erasmus University Rotterdam.
A perfect balance between wood, plants, environmental aspects  and the young people benefitting from the space.
Bronze Leaf: Geum M?terem & Ferenc Szentkirályi-Tóth, Hungary with Green reality OTP Bank M12 Offices.
This project shows an impressive creation of several cosy gardens that are in fact situated in one big open space.
public award
These awards  are always decided by the general public, who vote for their favourites on Instagram, Facebook and Linkedin. With hundreds of votes mobilised, this year it was an extremely close call within the top three.
 Gold: Greenwood France with Sifa.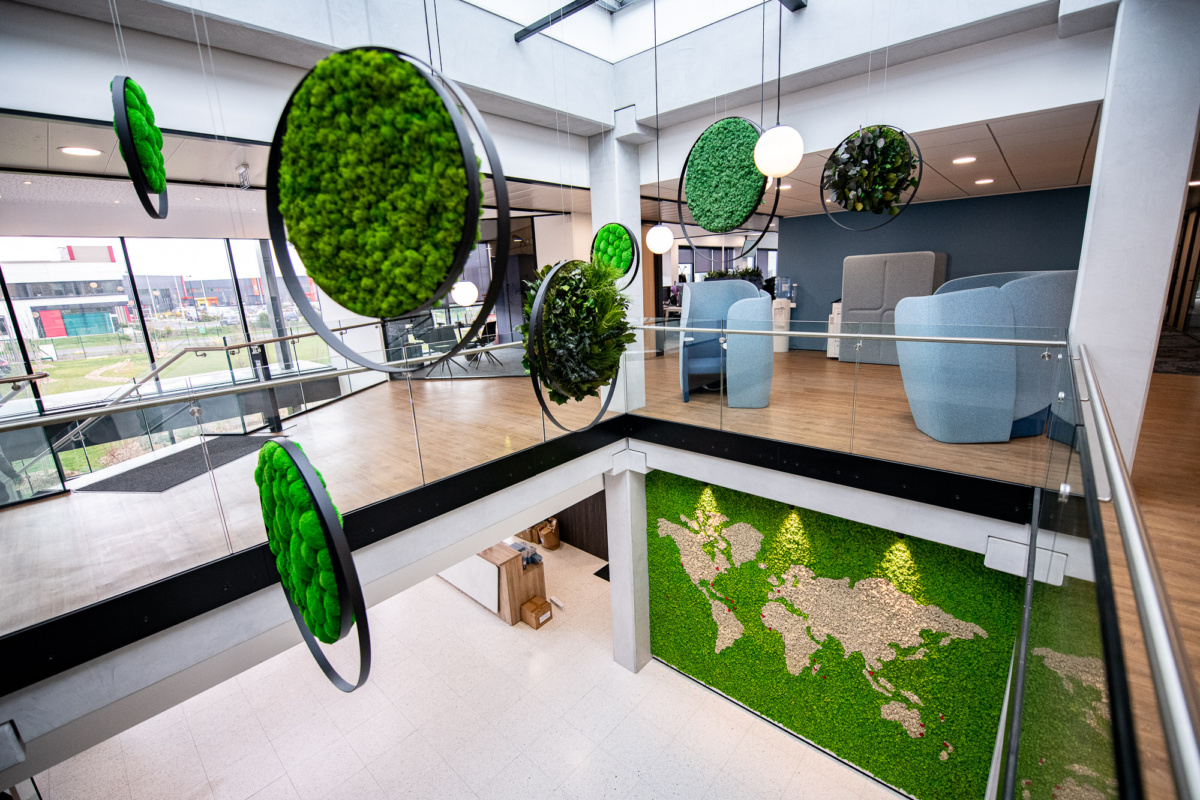 Silver: Greenwood France with Amicitia.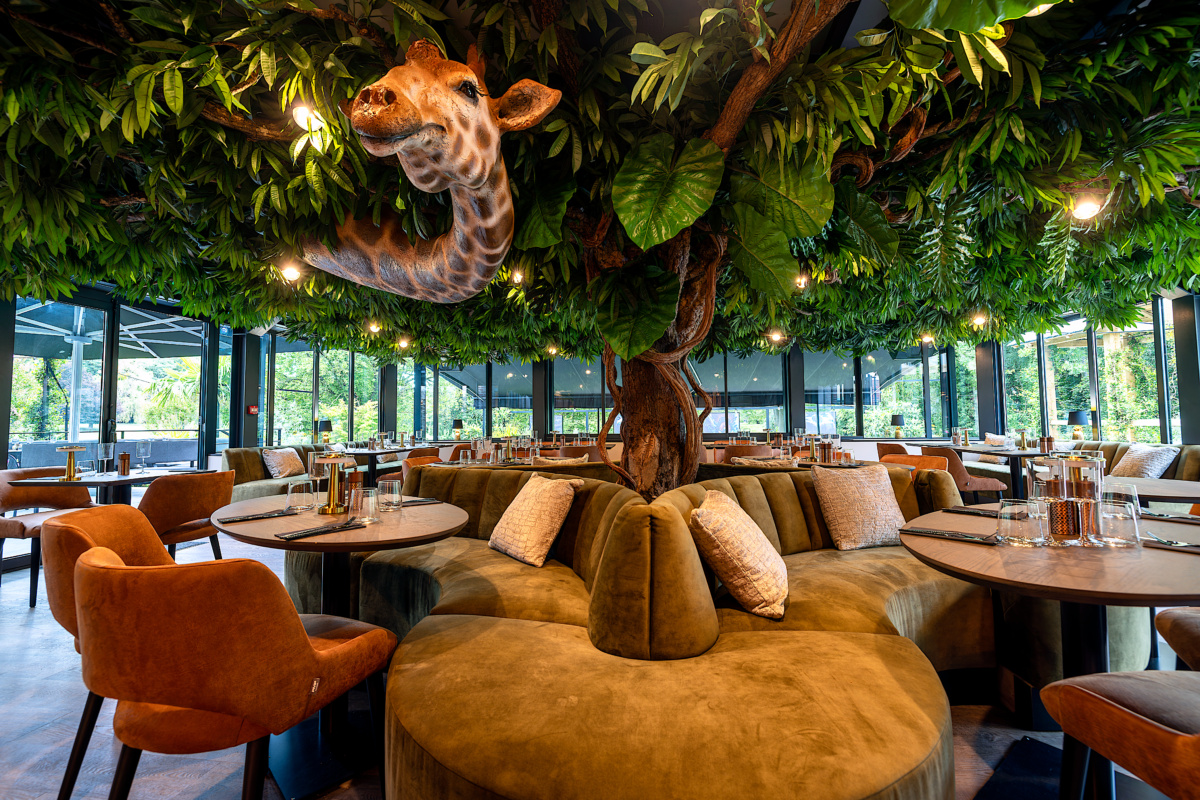 Bronze: Hydro Böttle, Germany with Growing Green in the Atrium.
Many thanks to our jury and all participants. Congratulations to all winners! Read more about all nominees of EILO's Best Project Awards 2023 here.